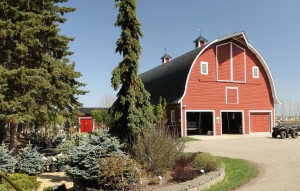 Millcreek Nursery was started in 1985 by Ken Riske on the Riske family farm in the southeast corner of Edmonton. The Riske's settled on the land in 1902 and were grain and dairy farmers for many years. The dairy business left a legacy of an old vintage RED BARN that the nursery is now known for, and many outbuildings that have converted extremely well to nursery use. Number one soil in the surrounding fields provides excellent conditions for our home grown trees. All this lends a certain "on the farm" charm to the nursery even though we are now well within the city limits.
From our humble beginnings with 3 or 4 acres of trees and a little container stock we have grown to 80 acres of caliper trees, a well developed container stock area and a retractable roof greenhouse. We are continuing to expand our perennial production and the greenhouse gives us a place to protect our tender plants and tender selves from the cold unpredictable Alberta spring weather. Both novice and professional gardeners will be impressed with our wide range of interesting , healthy, and hardy flowering trees, colorful shrubs, dwarf evergreens, hardy roses, and re blooming perennials. Our unique display gardens are a great way to envision your plants potential.
Stroll to the back of the Greenhouse, to view our ever growing gift and garden section. There is an array of colorful pottery, specialty garden stakes, tasteful wall/fence décor, classic trellises, or whimsical garden gnomes sure to enhance your outdoor living space
The one man nursery has grown to include over 30 team members during our high season, from a diversity of backgrounds. Some have Olds College diplomas in nursery production, some with University degrees, many with loads of hands on gardening experience and some just starting out. We strive to take good care of our staff and make Millcreek a friendly place to learn new skills and to put classroom learning into practical use. We can produce and carry great looking plant material but it's our staff that connects our plants to our customers – the essential link.